Knockout Park

The Club

6/2
6/3
6/3
DK
0|0
CC
0|0
KF
2|4
MP
5|10
JM
6|11
JM
4|9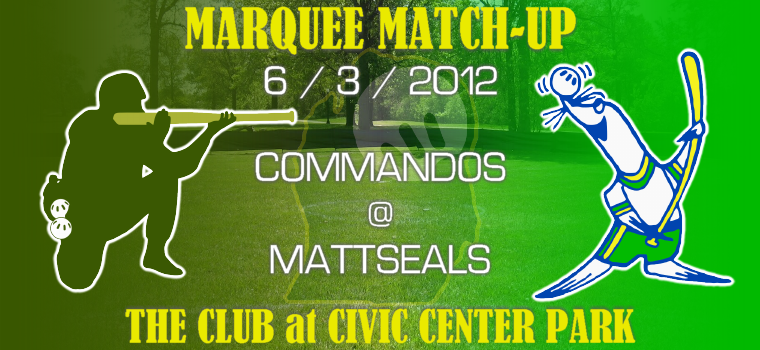 * Due to the recent identification of illegal substitutions and resulant forfeits the information and numbers in this post are inaccurate, however the spirit remains intact.
Twenty-two games played between these
Mattseals
and
Commandos
; zero wins. This Sunday they meet head-to-head and break at least one of the teams into the "wins" column. Both teams have faced tough opening schedules; the Commandos have played the Squirrels (10-2) four times, the DeLoppes (10-0) twice, the Aces (10-2) twice, Belgian (5-3) twice, and their rival Donkeys (5-7) twice: a combined record of 40-17. The Mattseals have matched up against the Donkeys, DeLoppes, Aces, Punchouts (4-2), and Belgian, combining for a 34-13 opposition record. The Mattseals' record also bears tough extra inning losses to the DeLoppes and Aces, as well as losing in walk-off fashion to the Donkeys and Punchouts. While these teams may have tough schedules in common, if you look at their team numbers they have taken two drastically different paths on
the Winless River
.
Let us call the first of these "fording". This is what the Mattseals have been doing. It is steady, confident and measured, but slow and one slip sees all your work washed away. Why is this
Oregonian
analogy fitting the 'Seals? In ten games they have scored three runs; in numerals that looks like this 10 games, 3 runs. Only .3 runs per game. The Mattseals have pitched fairly well, especially for rookies.
Cosby
,
Paquin
, and
Hewlett
(not a rookie, still a "
young vet
") all have ERAs below 2.60, WHIPs of 1.45 or below, and KPI over 1.25. That kind of rotation throwing 76% of your innings should spell wins; the fact they took on a "stretch of death" to open many of their Wiffle careers should not dismay them, precisely because of the defensive numbers they were able to put up during that stretch.
Defensively, behind the pitchers, they have played solidly. The commissioner famously stated "your whole team's winning a Handie," and they have given up 27 runs: 2.7 per game, which is not insurmountable. For comparison: The Donkeys have allowed 3.25 runs per game, and the Ducks 2.0 runs per game. Split the difference of those teams winning percentages, and the 'Seals are lined up to be playing .500 ball. This team showed promise at the plate in the preseason; bottom line, in order to best the Commandos on Sunday, they just need to find a way to come up with timely hits and push runs across the plate to help out their pitching and defense.
The Commandos path on the river can only be described as
rafting
. What earns that simile? 97 runs allowed in 12 games played. That is 8.08 runs against per game. Now, the Commandos have not been as offensively strapped as the 'Seals; in fact, despite their sub-.123 team batting average, they are performing over three-times better at scoring runs. Alas, that only comes 1.33 per game (16 R, 12 GP), which is a far cry from the 8.08 allowed. Any time you watch that many runners cross the plate it is a wild, unstoppable ride. The Commandos have a few good pieces, but the big struggle for them is inconsistency in their lineup and a steep learning curve for rookie players.
What will it take for the Commandos to be the team to break into the win column? First, get out of the river. It is
really
hard to play Wiffle in a river. Second, the Commandos need good outings from their two proven pitchers: Egan and Linebrink.
Linebrink
has struck out 9-plus batters thrice this year, and has an ERA of 4.23 in those games. In his other two starts he has struck out a total two batters, and has an ERA of 33.33 to show for it. Since settling in after his first two starts,
Egan
has walked no more than three batters in a game, for a total of only five in that span. He is also averaging 7.2 K per game. If either pitcher can throw one of their better games, then the Commandos have a good shot at getting a win. Offensively, they just need to keep doing what they do:
moneyball
. Get on base.
Unavailable Pitchers:
1 Game:
Franzen (JM), Hatt (MP), Linebrink (CC), Shore (DK), Castle (BW)*,
2 Games:
Crozier (WA)*
*
Team not active this week. Will carry over to next games.