"Maple Yards"

Poolside Park

7/1
7/1
7/1
7/1
FS
1|0
FS
1|3
JM
0|1
SM
0
BW
1|10
SM
7|4
WA
1|2
WA
2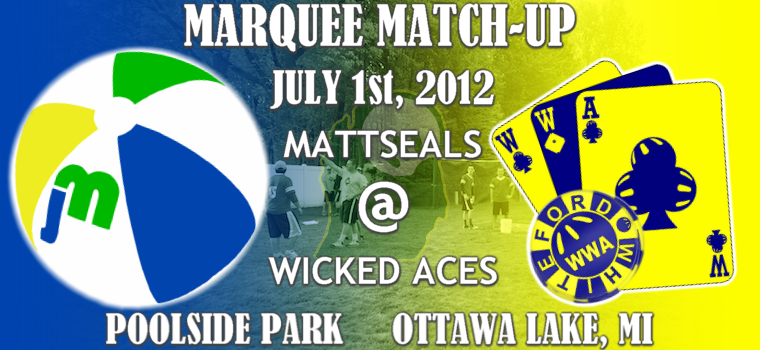 Whiteford (10-2,
#5
) and the Mattseals (8-12) may be on opposite ends of the Ringler standings, but the two games they played earlier this season could not have been any closer: Whiteford won both meetings earlier this season 1-0 in 7 innings. Pitching clearly dominated the day; including an Austin Bischoff perfect game, but Joel Crozier, Chris Paquin and Mike Myers also held batters in check throughout the series. Great defense was also on display with a home run saving catch made by Greg Franzen. To get the pulse of what this rematch on the Ohio border means, we have asked a fan of the game to write up this week's Marquee preview.
guest pen Stephanie Franzen
You may wonder who I am and what I know about wiffle ball. Believe it or not, I actually know and understand wiffle ball more than you might think. You have fans out there that appreciate the game and your talents, including myself. I follow the league closely and not just my husband's team either. I'm the kind of girl who can hold my own with the guys. I'm fun and feisty and I hope you enjoy my insight from a different perspective.

Highlights of the first WA vs. JM series
This is the second and final meeting for these two teams in the Ringler Division during the regular season. At first glance, you may think there is no comparison between these two teams and that the Mattseals don't stand a chance against the number five nationally ranked Whiteford Wicked Aces. The team that is currently ranked first in their division versus the team ranked last in their division? No brainer, right? Maybe not. I'll admit Whiteford scared the bejesus out of me when I was first introduced to WSEM. Upon looking at their team page I thought, "This is Team Iceland from Mighty Ducks 2!" Their pictures were so intense and they looked like these little kids that would club an old lady in an alley for a marble rye (Think Seinfeld episode). Austin Bischoff is a beast that towers over all opponents and Joel Crozier has that intimidating Darth Vader voice. In reality, these are some classy fellas. They play for the love of the game and are never boastful, which is something a lot of guys in the league lose sight of with national rankings, stats, divisional standings, and playoffs involved.
These two teams are actually more alike than you think. For one, both teams actually practice. (I know...
we're talking about practice
! - Allen Iverson) Whiteford may have the advantage in this case. While the Mattseals are older players with work and family commitments, it is difficult to get the entire team to attend each practice week in and week out. Another thing in common, they aren't afraid to play without all players available even the studs (Hint:
Brandon's infamous scheduling article
). They deal with what they have. Whiteford has an advantage in this case again. They are able to pull from an additional pool of players to fill a roster. It is like a farm team out there, but hey
if you build it (as Joel and his dad did)… they will come
– Field of Dreams.
Next, they both rely more heavily on the pitching and defense. You may think the Mattseals don't have the pitching caliber that Whiteford has and that may be true to some degree. It can be argued that Austin Bischoff is the best pitcher in WSEM with allowing only 1 hit and 80 strikeouts in 5 games pitched. He may be a top five pitcher in the nation. Austin pitched a perfect game against the Mattseals. Even though Joel Crozier is ineligible for this two game series, the Mattseals face an obstacle with probable starters Evan Bischoff or Justin Hughes. This deep rotation is another advantage for Whiteford, as both Evan and Justin have both pitched perfect games this season.
At their last meeting, the Mattseals held Whiteford to 7 innings in both games and only lost 1-0 in both games. These weren't blow- out games for the former "Benny Hill Mattseals" either. In fact, the Mattseals are no stranger to extra innings. They also took the Donkeys and the historic Wiffling Deloppes team to extra innings, and let's not forget the 18 inning league record game against the Flying Squirrels. You may ask who the Mattseals' pitchers were in week two. While Adam Cosby has speed (previously clocked in the 70 mph range by the handy work of Jason Matt at Satellite Tournament #1), he did not pitch against Whiteford, nor is he eligible for this series after pitching that 18 inning game against the Squirrels. The Mattseals had solid pitching in both games. Chris Paquin, who pitched one of the 7 inning games gave up only 1 run, 4 hits, 1 walk, and had 8 strikeouts. Jason Hewlett and Mike Myers were in the pitching rotation for the other 7 inning game and neither one of them managed to give up a walk. (In WSEM, Adam Grant and Carl Coffee wouldn't have stood a chance!) Then, there was the homerun rob of Joel Crozier by Captain Greg Franzen, one of three homerun robs Greg has this season.
Even though Joel Crozier will be ineligible to pitch, his presence in the batter's box will be vital in this series. Joel currently has a batting average of .313 and a slugging percentage of .433! He has the most plate appearances and at bats on the Wicked Aces. This will present a challenge for the Mattseals. However, all of the Mattseals can field and do it well. Their alignment is unique from every team in the league and it works. The Mattseals were still getting their flippers wet that second week of the season in regards to learning rules, lighting up the bats, and getting aggressive with base running. The Wicked Aces will not be facing the same team in week 10. One thing is for sure, this marquee match-up will be one hot ticket.
----- -----
Thanks, Stephanie. This should certainly be "one hot ticket", which makes it convenient that there is a pool on-site! If I have to state a "
make or break
" point for this series, it will be - simply stated - whoever can miss the most bats wins the series. There is not a lot of field for the teams to cover, so defensive range is virtually taken out of the game. Following that thought, the fences are quite close, so power is not an absolutely necessary factor (although it never hurts); any batter who can make solid contact has a shot at being the difference in the game. Speaking solely on what these teams bring to the plate, discounting opposing pitchers, this fairs well for both teams. Both lineups make good contact; if you can put the ball in play at Poolside, and get lucky once or twice, then you can quickly swing the game in your favor. It is a Jon Madden
"DUH!"
statement, but the team that makes more solid contact will win these games. Every pitcher put out there is capable of getting outs, but they will need to deliver
swing and miss
outs to secure victory.
Unavailable Pitchers:
1 Game:
Castle (BW), Mott (CC)*, Malloy (DK)*, Birotte (KF)*, Bortmas (MP)*, N. Braden (TD)*, Kincaide (SM)*
2 Games:
Corbett (FS), Cosby (JM), Crozier (WA)
*
Team not active this week. Will carry over to next games.